---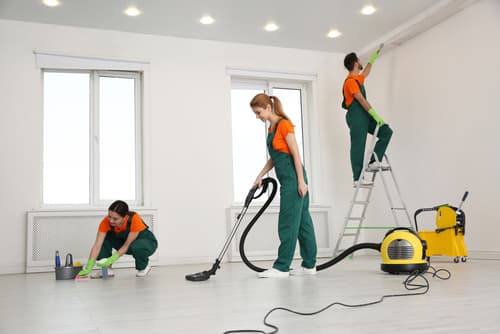 Move in cleaning is a step of your moving process that you never want to skip, but how exactly should you go about it? Should you do it before you transport your belongings or after you've already unloaded and unpacked them? Is there a particular order you should do the cleaning in?
Read on to discover what order to go in when conducting your move in clean. With these expert tips, your new home will soon sparkle! If your move is keeping you too busy to clean the house yourself, count on a reliable move in cleaning service in Calistoga.
Should you clean your new house before or after you move in?
The answer to this question is pretty straightforward, so don't overthink it. It's only logical to clean the home before any of your belongings are brought in. This way, you'll have an empty space to work with instead of having knick-knacks getting in the way. Come to think of it, cleaning the house while it's vacant is the easiest you'll ever have it! However, this doesn't necessarily mean that the whole process will be a piece of cake because you'll still have to use some elbow grease to make the home sparkle.
What order to clean my new house?
Being faced with the prospects of cleaning the whole house in-depth can be rather discouraging, especially if you have a tight schedule. However, move in cleaning doesn't have to be overwhelming if you plan it out well. Good organization makes a huge difference because most people are more productive when they have a clear-cut strategy.
Though everyone should find an order of cleaning tasks that works for their specific needs, your cleaning routine should go something like this:
Step #1: Kick off your cleaning process by spraying your surfaces with cleaning products that need longer dwell time. This way, they'll get to sit on the surfaces for a while before you get round to wiping them down.
Step #2: Dust the whole house and remove cobwebs, going top to bottom. If you go in this direction, you'll prevent dust from working against you by falling onto clean surfaces. Pay special attention to ceiling fans and lighting fixtures because they are notorious for collecting dust. Some people also find it helpful to start cleaning from the top floor down.
Step #3: Next, it's time to tackle most people's biggest problem areas: the kitchen and the bathroom. It's especially important for these rooms to be completely sanitary, so the cleaning can get pretty extensive and time-consuming. This is why it's best to get it over and done with at the beginning.
Step #4: Move onto the windows, window sills, and other areas that need wet wiping. Disinfect them after cleaning, putting extra focus on high-touch surfaces, like light switches and door handles.
Step #5: Finally, go over the floors. Vacuum the flooring first and mop afterwards.
Where can I get an efficient move in cleaning service in Calistoga?
With a fast-approaching move and plenty of things to do, entrusting a dependable cleaning company with your move in cleaning may be your safest bet. Valencia Pro Cleaning conducts thorough move in and move out cleaning services leaving nothing to chance.
Your cleaning specialists will make your new kitchen and bathroom spotless and ready for your family to use. To prevent making common move out cleaning mistakes in a hurry, take the stress out of your move out cleaning by scheduling a prompt and efficient move out clean.
Not only will your property be hygienic, but you'll also have more time to tackle packing and make sure that you choose a legit moving company. You may even find the time to drop by Sterling Vineyards and enjoy a selection of exquisite wines. Give us a call today!
---
---