---
Out of sight, out of mind doesn't actually work if you want to keep your home dust-free and safe. Cleaning seems easy, at least until you start paying attention to hardly accessible places and items. The truth is, when it comes to cleaning, half the battle is addressing these spots. Cabinets tops, areas underneath the furniture, ceiling fans, just to name a few.  
If you feel overwhelmed by chores, homeowners in Napa can outsource them to a reliable home cleaning company. But how to deal with out-of-the-way areas on your own and keep your family safe? What are the necessary supplies for an effective clean? 
We're here to arm you with expert tricks and handy cleaning tools. Read on to find out more!
What should you use to sweep corners and hard-to-reach areas?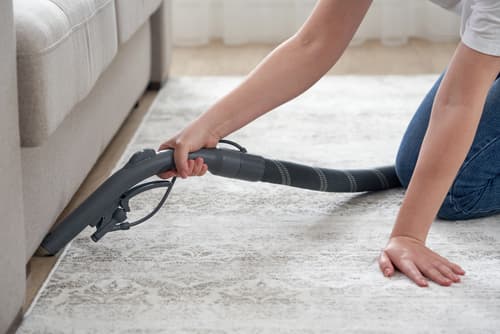 Since hard-to-reach spots are usually the most overlooked areas in a home, being adequately prepared to tackle them is essential. 
When cleaning your place, a general rule of thumb is to do it from top to bottom. No matter how high the ceilings are, a cobweb duster with an extension pole will remove the annoying cobwebs in the corners. This is the easiest way to remove dust from the ceiling fans and light fixtures, too. Run your stick vacuum or a broom across the area afterward and pay special attention to the dust in the corners. Finally, mop to eliminate even the smallest particles of remaining debris. 
How do you clean under hard-to-reach places?
With a well-planned strategy, giving a good clean to hidden areas doesn't have to be a difficult task. Here's what to bear in mind before starting the process:
1. Move your furniture more easily
Learning how to move your furniture without scratching or damaging the floors is vital. If you have different sizes of sliders at hand, shifting an armchair, a couch, or a dining table won't be such a tall task anymore. 
2. Prop up immovable pieces
Experts strongly advise against moving large items on your own. However, to properly clean heavier furniture, you'll need a bit more room underneath. Bed lifts or risers can be a simple solution and give you just enough space to get the cleaning tools underneath. 
3. Obtain proper cleaning tools
Without good cleaning tools, it's no surprise you can't get the job done efficiently. Expecting to reach the most challenging spots using your willpower only isn't the best method here. Instead, make sure you obtain the above-mentioned tools and tested cleaning products to tackle the process successfully. 
4. Don't move the pieces high up off the ground
Since there are proven methods to stress less about housework, why not use them? Sometimes, you'll be able to clean well enough without doing any strenuous heavy lifting. Simply move the furniture a little from the wall, vacuum or sweep underneath, and dust the back parts.
Where in Napa, CA can I find a trustworthy home cleaning company?

If you'd rather be visiting the hidden gems of Napa County than spending time doing daily chores, don't hesitate to contact Valencia Pro Cleaning. 
We are a locally grown company, specializing in matching homeowners with fully vetted and background-checked cleaning experts. Whether your move-in/out day is approaching or you're simply tired of handling chores every day, you don't have to do it by yourself! Booking our effective cleaning services provides you with the luxury of time. 
Booking is super simple: contact us via our booking platform or give us a call, and we'll get back to you in no time!
---
---