---
Living rooms always get cluttered and dirty since they get a lot of foot traffic. There are several reasons for this, from having many guests frequently and not having enough time to properly organize it to being distracted by other daily tasks. In this situation, you need a method that would allow you to get your living room looking decent in no time.
But, how can you tidy up one of the busiest rooms of the house so quickly? And what is the easiest way to do it? If you live in Napa, you can always count on professional cleaning services for help. However, if you'd like to learn more about how to get your living room ready with the minimum effort required, these helpful tips will make it a breeze.
How can I clean my living room in 5 minutes? 
Using these tips, you'll spruce up even the messiest living room in 5 minutes:
1. Do general dusting first
Dusting should be a priority part of housekeeping to eliminate dust bunnies hiding around. Ignoring thousands of particles of pet dander, dust mites, and pollen on tabletops, shelves, and upholstery increases the risk of sickness and allergies. Wipe everything down first and make sure your living environment is dust-free and has good indoor air quality.
2. Put everything back where it belongs
Another tip to speed up the chores is to make sure everything has its proper place. In most living rooms, clutter usually gathers on tables and across floors. Pick up all the toys, books, makeup products, gadgets, and papers that shouldn't be there, and return them to their designated area. As a result, you'll be able to reach every nook and cranny in the room.
3. Freshen up your couch
Since your couch is typically one of the living room's focal points, sprucing it up will give the impression that the entire area is more organized. Simply lift the couch cushions, vacuum up accumulated debris, fluff the pillows, and put them back down. For a leather couch, the most effective way is to grab a damp rag and wipe the surface with a spotter.
4. Polish glass surfaces
Sparkling windows will restore the shine to your room, so be sure to take care of them thoroughly. It's best to wipe the screens of the living room windows when there is no direct sunlight, as the heat will cause your cleaning solution to streak. To make the process easies, place a stepladder under the window to remove the excess water with a squeegee.
5. Run the vacuum or mop the floors
Even though it might be tempting to skip it, it's extremely important to vacuum the entire room to remove trapped dirt, dust, bacteria, and other unwanted particles. Apart from offering general room hygiene, vacuuming protects your carpets and makes them last longer. 
What is the easiest and fastest way to clean your living room?
Follow these tips and you'll be surprised how much you can accomplish, even when you're pressed for time:
Create a system: If you're on the mission to cut your cleaning time in half, come up with a system that works for you.

Maintaining consistency will help you save time

, whether you clean the same room every time or you tackle household chores simultaneously.

Keep supplies on hand:

Don't fall victim to a common cleaning mistake

and waste your time walking back and forth to a laundry room, looking for the right supplies. Grab a basket or a tote bag and make sure you have everything you need at arm's reach before you start the tidying session.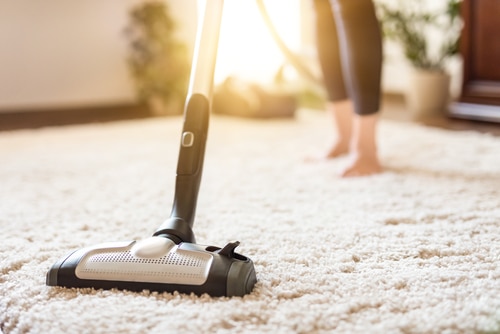 Where can I find Napa's expert home cleaning services?
Home upkeep comes easy when you have the time. But, what if unexpected guests are coming over and you need the house cleaned quickly? There's no need to stress because Valencia Pro Cleaning has you covered!
With us at your corner, there's no reason to waste your time on drudgery. We can connect you with the most qualified experts in the area, so you can focus on the things that matter. Reach out to us and finally have some time to yourself at Goodman Library or a well-deserved day off elsewhere in Napa County. 
Give us a call and learn what it's like to take full advantage of a spotless bedroom, living room, and kitchen area!
---
---