---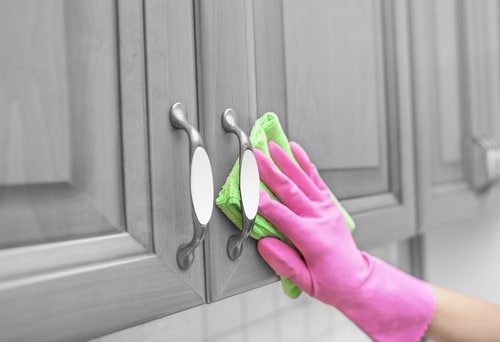 You can't get used to your new home if you don't clean it when moving in. There are many tasks to take care of, and the best way to deal with them is to hire dependable move-in cleaning services in Napa, CA. They can remove even the slightest imperfections from various surfaces, especially your cabinets. 
However, what if you wanted to test your DIY skills? You'd need expert guidance, and you've come to the right place. Keep reading, and we'll show you how to remove stubborn dust and dirt from your kitchen cabinets. 
How do you get grease and grime off of wood cabinets? 
The bulk of your sanitization when relocating usually takes place in the kitchen. With so many appliances, it's no wonder you may want to outsource the work to a move-in cleaning agency. They can breeze through the work and make every area shine, including your cabinets. 
Here are a few ways to clean them from top to bottom:
Soapy water 
Even though the grime and grease on your cabinet may seem too stubborn to remove, a few drops of soap in warm water may be enough to deal with them: 
Break down the grease with a damp sponge. 

Soak the sponge in soapy water and apply the solution on the surface. You can also use a scrub brush or toothbrush. 

Dry the cabinets with your dish towel to prevent more grime from forming. 
Baking soda 
If the stains have sat on the cabinets for a while, you may need to use your scrub brush and baking soda: 
Wet the brush using warm water. 

Sprinkle baking soda on the cabinets.

Let it rest on the cabinets for 10-15 minutes. And no worries – it won't eat away at the finish. 

Scrub the wood cabinets with the brush. 

Get rid of any residue with a moist cloth. 
White vinegar 
Another solution you can use to cut through grease is white vinegar. It contains natural acid that can eliminate grease and grime without leaving practically any residue: 
Soak a paper towel or washcloth in white vinegar. 

Use a cloth to clean greasy sections of the cabinets. 

Let the vinegar sit for approximately 15 minutes and do another wipe-down with a moist sponge. 

Finally, soak your cloth in some water and rinse the cabinets. 
General cleaner 
You can also make a general wood cleaner to address the grime and grease. Simply combine 8 drops of dish soap, 4 tablespoons of white vinegar, and 2 tablespoons of olive oil into around 2 cups of water. From there, take the following steps: 
Shake the solution. 

Spray one section at a time and scrub using a soft microfiber cloth. 

Buff the cabinets to make them shine.  
Why waste time and energy when #1 move-in cleaning services in Napa, CA, are available?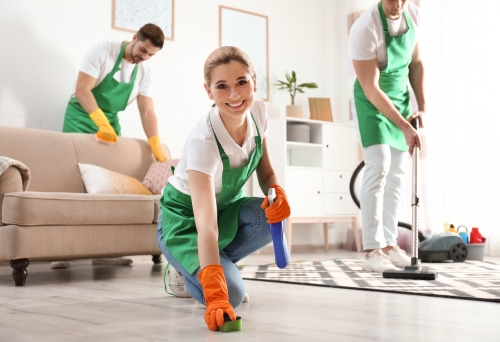 There's no need to worry about housework if you have a reliable agency by your side. That's precisely what you get with Valencia Pro Cleaning. 
Reach out to us, and we'll dispatch trained professionals to scour your cabinets out and out. Once they're done with the job, you'll be more proud of your kitchen than ever. Additionally, we're available for an in-depth move-out sanitization that leaves no stone unturned. 
Whether you want to degrease your oven before relocating to a new place or deal with a dusty bedroom, give us a call at any time of the day. Whether you live next to Pacific Union College or in one of the surrounding neighborhoods, we're here to help. We offer remarkable, comprehensive cleanups each and every time!
---
---