---
You've found the new home of your dreams, and you can't wait to spend your first night inside. Most of the arrangements have been made, such as your address change, but not all of them. You still need to clean the place to ensure a healthy, wholesome environment for you and your family.
However, this doesn't mean you should be the one doing the dirty work. Dependable Napa, CA, move-in cleaning services can step in and deliver an impeccable home in no time. Coming up are the main reasons you should hire a professional move-in team before relocating. Read on!
Should I hire a cleaning service when moving?
The answer is a resounding yes. Whether you want to remove stubborn grease and grime from the oven or make sure your cabinets look fantastic, a professional service is the answer. Here's what makes it so beneficial:
1. Professionals work faster 
Let's face it – your priority when relocating is to settle down in your house as soon as possible. You can't do so without scouring the place in-depth, which is why you should schedule a reliable service. 
A professional cleaner can take care of any housework in no time. With years of training, they know which products to use on certain surfaces, saving them precious minutes. Furthermore, they always know to begin, resulting in even greater efficiency. 
2. A safe clean is guaranteed 
As previously indicated, experts don't select cleaning products randomly. They have an in-depth understanding of substances appropriate for each surface, enabling them to scrub individual areas quickly and safely. Once they take over, you won't have to worry about paint discoloration, deteriorating countertops, and peeling floors due to harsh products.
3. Promotes a healthy environment 
The last thing you want is to relocate to a dusty house. It can cause allergic reactions and make your stay unpleasant. Fortunately, that's not the case if you work with a high-quality cleaning company. 
A specialist has all the equipment they need to dust various areas and prevent particles from circulating throughout the place. Moreover, a professional can disinfect the bathroom, kitchen, and other common rooms that attract germs. The result is a healthier environment you can enjoy as soon as you step inside.
4. It's hassle-free 
Today's jobs are much more convenient than previously. You need only dial a number or make a few clicks online to schedule your service. This way, you can schedule your cleaners while taking care of other relocation aspects, like notifying your cell phone provider about your move or meeting neighbors.
5. Peace of mind 
How many times do you miss a spot or two when doing housework? With professionals in charge, you won't have to worry about this. They leave no stone unturned, meaning you won't have to clean certain areas multiple times.
Who is the leading provider of Napa, CA, move-in cleaning services? You've found them right here!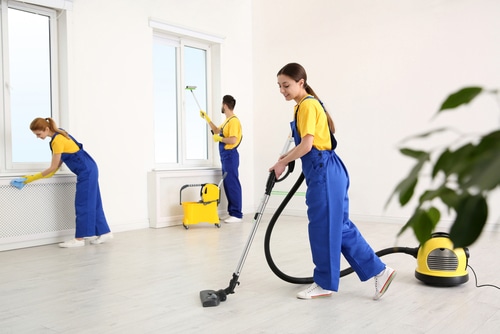 Now that you know that hiring an expert is a great decision, all that remains is to find a reliable provider. There are many companies in Napa to choose from, whether you live near Milliken Creek or other local attractions. However, no team comes close to Valencia Pro Cleaning. 
We can pair you up with vetted and highly qualified cleaners who'll address even the tiniest imperfections in your new place. Need them to scour the bathroom or disinfect the living room? You got it! Your professionals will deliver an impeccable service each and every time. 
We can also dispatch them for unmatched move-out jobs. Just reach out to us, and the cleaners we work with will scrub the house in detail to ensure you get your deposit back when moving out. Schedule your cleaning today!
---
---